Superstar



Range

Gogo's Crazy Bones

Year

2010

Availability

Europe

Rarity

Rare outside of Europe

Uncommon in UK

Series No.

S
Superstar is a special series released in 2010 in Europe. The series features the 80 most famous characters from Gogo's, Evolution, Explorer and Power. 
Each character has been uniquely adapted, improved, and had their Superstar status is confirmed by a brand new fuzzy finish. Each pack contains two Gogo's, two stickers, and one storage cube. This series is often regarded as the final European series by Magic Box, even though Edge came after it.
In every pack, you receive square shaped Storage Cubes, which you can store your Gogo's, and can stack them to form towers. They are available in seven different colours, ranging from from red, orange, yellow, lime-green, cyan, blue, and purple.
Checklist
Wanted
There are 4 wanted Superstars that combine Precious Metals (colors) and Fuzzy (colors).
Titan Comics Collector's Tin
The Titan Comics Collector's Tin was only available in the premiere issue of the UK Gogo's Crazy Bones Comic and it came with one free Superstar Gogo. 
North American Release Plans and Cancellation
As seen by some fans, on the North American Gogo's Crazy Bones website, there were Superstar Gogo's hinted, on Gogo's website games, which gave a hint that it could get released in North America.
On the North American Gogo's Crazy Bones website, It was announced in 2012 that it would be released in North America. This page was hard to find, but it existed.
There were plans to release the Superstar series around the time Fusion released. They were both cancelled, however, the reason being because there were not enough fans, according to Sang Pham and JDNA. 
There were also Superstar Gogo's on the 2013 Gogo's Crazy Bones Calender for North America, so it was definitely planned for release in North America.
Gallery
Trivia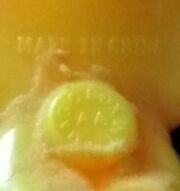 Community content is available under
CC-BY-SA
unless otherwise noted.