Monica's Gang



Range

Gogo's Crazy Bones

Year

2011-2014

Availability

Brazil

Rarity

Infrequent (Brazil), Rare (The Rest Of The World)

Alternate Names

Turma Da Monica

Next Series

Gogo's Futebol
The
Monica's Gang
series was a special licensed collection of Gogo's that were released in September 2011. There are 60 characters to collect based on the
Monica's Gang
comics by
Mauricio De Sousa
.
It was only available for retail sale in Brazil, though figures can be purchased on the secondary market, e.g. eBay and related eCommerce sites. 
Checklist
Alternate Names
Turma Da Monica - Gogo's Crazy Bones
Trivia
This Series was available for about 2 & ½ Years. That makes it the longest-lasting Gogo's Crazy Bones series in Brazil. Most Series' lasted a Year, or less.
Gallery
Monica's Gang Mega



Range

Gogo's Crazy Bones

Year

2011-2014

Availability

Brazil

Rarity

Infrequent (Brazil), Rare (The Rest Of The World)

Alternate Names

Turma Da Monica Macro

Next Series

Gogo's Futebol
Larger versions of the
Monica's Gang
GoGo's. These figures were only released in Brazil. In the Tins the figures had
painted faces
, in the booster pack they did not.
Checklist
Tins
Released in 2011, and is exclusive to Brazil. There are 2 Tins with 8 Mega Gogos in each tin. They are extremely rare and are hard to find.  They were only released for this Series. The Same Mega Gogo's were not painted and were given away at Unissul. 
Gold Macro Tin
For all his help with designing the characters for Monica's Gang,
Roberto Marinho
received a Macro Tin, but this Tin had Chrome Gold Versions of Part 1 Macro Characters. Only 1 is in existence.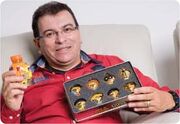 PPI Worldwide Stamp
These Gogo's don't have numbers, but carry The PPI Worldwide Logo on The Stamp. On the top, there are the words, "Mauricio De Sousa Producoes & 2011 PPI Worldwide Group".  
Alternate Names
Turma Da Monica - Gogo's Crazy Bones - Macro Gogo's (Brazil)
Gallery
Community content is available under
CC-BY-SA
unless otherwise noted.