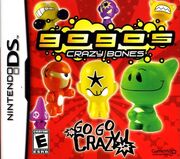 Gogo's Crazy Bones is a video game for the Nintendo DS that is based on the figures of the same name. The game is published by Gamemill Entertainment and produced by Black Lantern Studios.
Gameplay
There are 30 Gogo's from Series 1 to play as, and the gameplay is very similar to Angry Birds.
There are three types of games:
Battle: where you must knock over the enemy Gogo's (Some of which are protected by wooden fortresses, similar to pigs from Angry Birds).
Basket: where you fling a Gogo into one of three baskets.
K.O: where you knock Gogo's out of the area they are in.
Trivia
Gallery