Crazy Bones are small colorful characters that come in hundreds of colors and designs, each one with a unique name, design, personality and special ability.
Gogo's were inspired by games from ancient Greece where children played by bouncing and throwing the carved knucle bones of sheep, called astralgus - the game was called Astragals . The game has survived for over 3.000 years, and is known today as "jacks"; marbles are another variation. Each Gogo has a unique number for collecting and designed so you can hold and throw with one finger.
Magic Box Stamp
You can identify an authentic Crazy Bone by the Magic Box Int stamp on the back of your Gogo. This certifies your Gogo is an original with fantastic bounce, design and personality.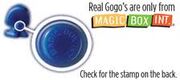 Stats
*Speed: This shows you whether the Gogo will gain speed and crash strength

Bounce: This tells you if it will be easy to predict where the Gogo will land after it's thrown
Balance: This tells you whether the Gogo will stand up easily after it has been thrown
Distribution
They are distributed by Panini in Brazil, and Plus Marketing in Europe. Toy Craze was formerly the USA distributor. However, the Canadian-based company Jonic Distribution North America (www.jdna.ca) is currently the sole distributor in North America.
Giveaways
In March 2009, to mark the release of the Explorer series in the UK, the Daily Mirror newspaper ran a week-long promotion where they gave away free figurines, stickers and sticker books. Two of the figurines were exclusive to this giveaway.
In April 2009, the Entertainer toy shop in Kingston upon Thames held a 'swap day'. Every swapper received a special 'Laser Mosh'.
C1000, a supermarket in Holland, has given away exclusive Gogo's.
In April 2011, Walgreens gave away free sample to customers. 5,000 of these Gogo's were super-rare Miro-K characters.
In early 2012, Free Gogo's were included with Panasonic batteries in Germany. These Gogo's used the same sculpt as the Daily Mirror Gogo's.
Stickers
Each pack of Gogo's comes with stickers. Albums are avalible for the stickers.
Trivia