Metal Tins



Range

Gogo's Crazy Bones, Things, Aliens, Dragonball Z, Zany Brainy
A metal case to keep your Crazy Bones safe with a special lock to keep it shut. There are many different versions of this with different designs on the front. Some are much larger and are also intended to store children's school lunches in. There is also circular shaped ones.
In Australia there were rarer ones that were filled with posters and other activity accessories.
Gallery
Coffin



Availability

Worldwide

Year

1998
The
Crazy Bones Coffin
(or Bone Yard Carry Case) are clip-on containers to store your Crazy Bones inside. They come in a variety of different colours, including red, purple, yellow, green, and black. Glow in the dark variants were also available.
Coffins were usually sold with starter packs. For the Mutants series, the starter pack had a glow in the dark coffin.
In England, the coffins also came free with Skinny Bombers. The coffins were essentially the same as the American coffin, but with a different font on the Crazy Bone's logo. In Germany, the coffin also came with Skinny Bombers, but with a logo exactly the same as the UK logo, but with Gogo's on it. They are very flimsy and break very easily.
Some of the Canadain Coffins were released with "R.I.P" on them instead of Crazy Bone's Logo
Gallery
Skips Box



Range

Gogo's Bombers
A big carry case made to store the Gogo's Bombers in. This box was released as a promotion with Skips crisps in the United Kingdom.
Gallery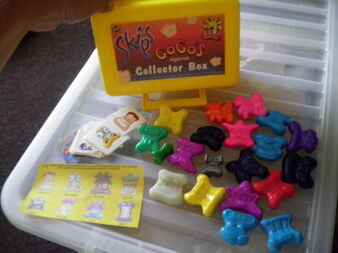 Coca-Cola container



Range

Gogo's Crazy Bones, Aliens, Things, Sports, Skinny Bombers
A container to keep Crazy Bones in. Comes in many different colours and labels. These were released a promotion to Coca-Cola and they each featured art from various Crazy Bones series ranging from the original 1996 series, Sports, Aliens, Skinny Bombers and Things. These cases were only sold in South America, Portugal and Sweden.
Rocketship
In Mexico, an Aliens carry case was released. It was shaped like a rocket ship. This product was promotional material for Coca-Cola.
Gallery
Crazy Van Pouch



Range

Gogo's Crazy Bones
A rare classic Crazy Bones van carrying pouch used to hold Crazy Bones inside. These were given out at the Crazy Bone Van Tours in the late 1990s.
Gallery
Character Case



Cases

Eggy (Mutant)
Buck
Vicious
Frankie (Mutant)

Year

2005

Availability

Europe

Rarity

Colors

Red
Dark red
Purple
Dark purple
Green
Yellow
Orange
Blue
These are cases based on popular Crazy Bones characters, including Eggy (Mutant), Buck, Frankie (Mutant) and Vicious. They were released in Europe during 2004 and 2005.
Gallery
Storage Boxes



Range

Gogo's Crazy Bones

Year

2010, 2011, 2012

Series

Series 1, Evoluton, Explorer, Power, Megatrip

Rarity

Uncommon
The
Collector Cases
(otherwise known as the 
Gogo's Crazy Bones Box
) are a series of large character shaped containers each with clips to attach to bags. Each box contains three Gogo figurines from various series, and each Gogo is available in two different colours and can store around 10-15 Gogo's.
Megatrip
There are also Megatrip Collector Cases only available in Asia.
Nuclos
These are cases that can store Gogo's. They can also store food items as well, making them like jars. They included a Nuclos case, with ice cream, and one of the exclusive 21 Gogo's. These were released by Kalise. There are four designs/characters to collect. The Cases are Nuclos, Sully, Sankles, and Vamp. These also include 21 Exclusive Gogo's, which are actually  the 20 Gogo's missing from the Edge series (although those 20 [61-80] were also included in the Brazilian Edge collection)These were only released in Spain, Portugal, France, United Kingdom, Belgium, and Italy. These can be found on European e-Bay sites for a low price.
Characters
Nuclos (Belgium exclusive, also came in three other designs)
Tokoro (Asia exclusive)
Kimo (Asia exclusive)
Kayune (Asia exclusive)
Gallery
Gogo's Box



Range

Gogo's Crazy Bones (2007), Evolution
The Gogo's Box was a small box that was used to store Gogo's. It was released as a product in the new Series 1 and Evolution series, but is absent from the Explorer series. It was only available in the UK. When the Power series was released, the boxes returned, this time in the form of large versions of Gogo's from Series 1. The box could come in many florescent colours including pink, green, orange and yellow. As well they can come with Wave 1 Charates on the Front or Evolution Characters on the Front depending on the release.
Contents
1 Box
3 Gogo's
3 Stickers
Gallery
Drawstring bag



Range

Gogo's Crazy Bones 1996 & 2007, Buddies, Mutants, Evolution, Explorer, Power, Groovy, Megatrip, X-Treme, Disney, Marvel, Star Wars
A drawstring bag used to carry Gogo's inside. It came in many different sizes and designs over the years.
Gallery
These are large boxes that are used to store many Crazy Bones inside. There was a classic orange design as well as a McDonald's Monster Bones design.
C1000 cases
The C1000 Collector cases both hold all 60 figures and 56 figures + accessories from the C1000 Groovy and X-Treme sets respectively. Gogo's have become a sort of cottage industry for C1000, a grocery store chain in the Netherlands - the store regularly rewards shoppers with a figure for every 10 Euros spent. They released a large amount of other related merchendise along with these Collector Cases.
Gallery
Urban Toys, Urban Boy Storage Case



Range

Gogo's Crazy Bones

Series

Urban Toys

Year

2008

Availability

Brazil

Rarity

Rare

Next Storage Case

Alternate Names

None
When
Urban Toys
was released, there were some posters of Urban Toys Gogo's along with a cardboard storage case shaped in a Gogo referred as an
Urban Boy
. You can store Gogo's in the head compartment.
Gallery
Megatrip Rocket



Range

Gogo's Crazy Bones

Series

Megatrip

Year

2009-2013

Availability

South America, Asia

Rarity

Scarce
The Megatrip Rocket is a cardboard rocket. This is was available in South America and Asia, and came with The Megatrip Sticker Album.
Gallery
SwapBox



Range

Gogo's Crazy Bones
The Swap Box has been seen on PicClick U.K and other U.K shopping shops and is believed to be Connected to the British toy shop The Entertainer in Kingston upon Thames which held a "swap day", where Swappers could trade regular figures and Lasered Moshs Where these Cases and Bags could be used to hold your Gogo's.
Gallery
Community content is available under
CC-BY-SA
unless otherwise noted.