Bumping Weirdos



Range

Weirdos

2010

2004

Availability

Europe, North America, Puerto Rico

Rarity

Scarce

Alternate Names

Weirdos 3D, Weirdos
Figures similar to Crazy Bones from Puerto Rico that were given away with kid's meals at Church's Chicken. They were made by Cool Things company . There is 15 figures in the series (Each figure comes in 3 different colors so there is 45 altogether). These figures are also sold inside white foil packs and vending machines in Europe but very hard to find.
Checklist
Description
The weirdos are happy, funny, messy and they are sweet little characters that symbolize the world's melting pot and the society we live in, where...WEIRD HAPPENS! Each caracter has an unique personality and each one of these characters ends up in crazy situations. We all have a little bit of "weirdo" inside of us, but to BE WEIRD is COOL! The weirdos are modern and trendy and speak to today's kids and teens. In today's world nobody is perfect , but in Weirdland. ...WEIRD IS BEAUTIFUL!
Merchandise
Alternate Names
Weirdos 3D (Italy)
Weirdos (UK)
Bumping Weirdos (Puerto Rico)
Gallery
Series 2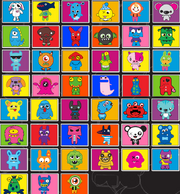 A series 2 was announced on the official website, but it has yet to be released.
Community content is available under
CC-BY-SA
unless otherwise noted.