Battle of the Gogo's is an event on the Gogo's Facebook page that started on May 1, 2011. Each day Facebook users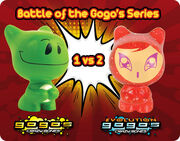 would vote for the series 1 Gogo or the Evolution Gogo. A random user would win original and evolved form of the Gogo, plus a Miro-K and Evolution album.
Series 2 was the winner.
Info
Every day at 5pm EST starting May 1st, 2011, we will post two pictures (look for them in the "Battle of the Gogo's" photo album). One picture will be a Gogo's character from Series 1 and their "Evolved" version for Series 2. "Like" which character you prefer.
The following day at 5pm EST, we will randomly select one of the Gogo's Crazy Bones Fans who participated and award them a Miro-K, both characters from the poll plus a Series 2 Sticker Album!
We will do this for all 80 characters!
We will also hold a similar poll on the Gogo's Crazy Bones website. This will be done on a weekly basis with 7 competing characters for the week. We will select 10 random participants who answered the survey every week and they will win a Miro-K, two of the characters from the weekly poll plus a Series 2 Sticker Album!